Customer Centricity
Many highly successful companies operate with a focus on their customers instead of product, business model or technology. Amazon, to name a very prominent example, even calls itself "customer obsessed" – and if you have ever interacted with its customer service (may it be Amazon retail or Amazon Web Services) you'll understand that they really live by this value. They make it easy for you to love them because they have integrated instant feedback loops to improve only according to customer demand. This will increase your loyalty to the company, and the share of wallet you spend there. This approach is helping them in building a sustainable business.
In classic B2C and B2B models, customers are easily defined, but essentially any kind of service that is offered, has customers. For a city's authorities it may be citizens, for a school it may be students, for a restaurant it may be guests. And, also, units within companies serve (internal or external) customers they can focus on. So why not apply this approach to the ProSiebenSat.1 tech solutions department?
We are convinced a customer centric model is not only fully feasible for the tech department, but also comes with substantial benefits for our performance, our users, as well as our employees. Hence, we have decided to structure our organization along customer groups and have defined three pillars: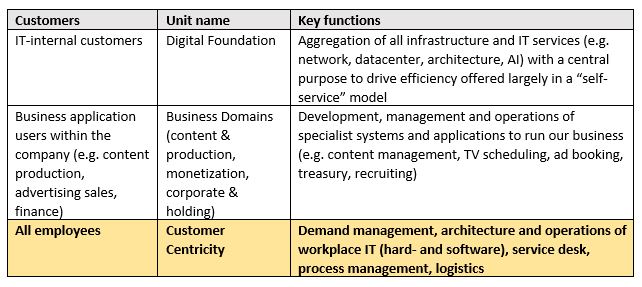 Having clearly distinguished pillars by customer groups ensures that all efforts can be adjusted to one target: the increase of satisfaction within the respective customer group. Last year we started off with the Digital Foundation, which mainly targets IT-internal customers, and the Business Domains, which mainly address users of specific business applications (e.g. for video content management, TV scheduling, advertising planning etc.). We soon realized that there was one group missing – and actually, it is by far the biggest one: all of our employees. Nearly every one of our around 6,500 employees has a computer or laptop, different hardware, various workplace software, a mobile phone, uses printers or conference room technology and needs a contact point for questions, as well as fast help in case of issues and trainings. Of course, we have been doing our best to serve this customer group in the past, but to be honest, it was not a core focal point.
We realized that was a failure. A modern digital workplace and technology are key enablers of culture, collaboration and effectivity at work. That is why we decided to make "IT for the regular employee" a top priority topic. As a result, we most recently decided to bundle all end-user touchpoints and processes in one dedicated unit. This is an essential change versus the status quo, where these teams are spread all over the organization.
At the foundation of our unit are three key underlying hypotheses:
A modern workplace is a key component of a company's culture (and goes way beyond just providing a laptop and a phone).
The purpose of workplace IT and services is to maximize the productivity of "regular employees'" at their workplace. Productivity means employees can perform their tasks as effectively and efficiently as possible.
An increased tech-driven productivity will result in increased satisfaction with IT.
We believe that we will only be able to increase productivity and satisfaction if we really put our customers – the employees of ProSiebenSat.1 – in the very center of all our activities. Everything we do must aim at maximizing the productivity of the employees at their workplace. We are not just saying this for marketing reasons, we really mean it. We really want to re-think workplace IT. To cement this into our organization and continuously remind ourselves of our purpose, we decided to choose "Customer Centricity" as the name of our new unit.
I would like to walk you through our thoughts and assumptions.
Getting the basics right: Access and solving issues
We are aware of the fact that most employees perceive IT as a "black box" and are not really interested in looking inside. They simply want everything related to their workplace to work smoothly. Workplace IT is a typical hygiene factor where it is hardly possible to generate enthusiasm on the customer side, even if things are working well. Customers mostly get in touch when something is not working well. Access, interaction and the solution must be designed as intuitive, simple and as unintrusive as possible. To us, this means that it must be clear how to get in touch in case of an issue, and which is the right channel for which kind of topic. To this end, we have implemented two channels: A dedicated phone number (probably the most famous phone extension at ProSiebenSat.1) and a walk-in service desk where trained experts provide help on an ad hoc basis. We are training our teams to be able to solve as many issues on the 1st level and in the least amount of time possible. However, there are also a variety of other demands, e.g. a need for new software, the exchange of hardware or the need for consultation. Therefore, we are currently implementing an IT button on the taskbar of every computer at ProSiebenSat.1 that avoids long labyrinths and guides the user to the right access point. At that access point, we provide fast help (e.g. provisioning of new software from our catalogue happens fully automatically after the relevant organizational superior has accepted the order).
Overall, we believe that transparent and open communication towards the customer are key – especially for units with - traditionally - rather weak communication skills, such as IT. Even if we are passionate about technical specifications: In direct interaction, we must communicate in a fashion which the customer can understand, because this will avoid information and escalation loops. A higher efficiency on the customer's and our side should be the result.
So, those are the basics. However, maximizing productivity means more to us than solving issues quickly, guiding our customers to the right access point and communicating at eye level.
Driving Productivity
It is pretty straightforward: ProSiebenSat.1 is diverse and the group's employees perform a huge variety of different tasks. Of course, there is always a lot to do and people naturally want to get as many things done as quickly as possible. To be able to do so, our customers need the right culture and setting to work in, along with the right set of tools with which to work. Apart from several other units like HR, internal communications and real estate (with whom we work closely), we from IT are one contributor to this environment. Jointly we design the setting in which employees spend a large share of their day, create ideas, collaborate to get things done and bring the company forward. We must strive for the best environment and drive and enable change to become a little better every day. Yes, we want people at P7S1 to love our company and be excited about their job!
Our role as IT is to provide our customers with a set of hardware, software and services that enables them to perform as well as they can and enjoy what they do. The tools we provide must be relevant (i.e. support the type of work that is being performed) and reliable.
Relevance and Customer Proximity
Relevance is a moving target: Since the way of working and tasks are continuously changing, requirements are not static. We need to understand how people work, derive implications and adapt our set up and offerings continuously. To be able to do so, we track KPIs (e.g. which software is requested and how often), but much more importantly, we need to get closer to our customers personally. Regular formal and informal exchange with customer groups and their representatives is essential to identify needs. We believe we need to build close relationships with specialist departments, the workers council, the assistant association and other bodies to discuss with them what is happening on the business side and how demand is changing. IT must not be a silo, but closely connected to all units. A key project for us is to develop a network of multipliers across the whole ProSiebenSat.1 group that we regularly meet with. We call them "IT Ambassadors", and everybody in the company, regardless of tech expertise, is invited to join this group. To us, the Ambassadors will be one core channel to better understand workflows and demands, as well as where problems may lie. In this way, we can improve our portfolio of relevant services and products. As a direct benefit, they will be the first ones to learn about cool new features and IT hacks.
Focusing on the customers' needs and fulfilling them does not always mean that we give them everything they want initially. It means we really need to understand what the problem is that they want to solve and offer them the best solution available (which may be a different – even better – one than what was initially envisaged). Therefore, our experts continuously track the market, assess whether they will help our customers to better do their job, and introduce new tools and features where relevant. We only introduce new features that have been tested extensively.
Our observation is that our customers often have problems keeping up with the fast pace in which we – particularly driven by Office 365 – launch new tools and features. The effort to understand a new tool appears high, so customers stick with their old way of working. We need to lower the hurdles through short, snackable introduction trainings that address the specific needs and are built around use cases, not tools. We also work on tools that explain themselves on the go. On top, there is a group-wide Microsoft Teams group where employees support each other in case of questions around Office 365. Adoption is increasing and we are happy to see how fast people solve their colleagues' questions.
To build an ambassador network, understand ways of working, changing requirements, and offer dedicated consulting, we have installed a new function classed "Demand & Portfolio Management". This group is our visible face to the customer and responsible for managing all business relationships. In this way, we plan to avoid the current "Hey Joe" model, in which demands enter the tech department through several different, unstructured ways, resulting in a lot of small and non-prioritized projects on the side, which often keep the team from working on what is really generating the biggest customer value.
Funnel
We believe, the work in IT can be structured in funnel logic. Inflow is to a large degree generated by our customers – on the one hand by standard requests, incidents, orders via our service desk, on the other side by specific requests that (in the future, hopefully) go exclusively via our Demand Management. Every inflow must be assessed when entering the funnel and is not allowed to go deeper inside erratically. In particular, for the specific requests, we need a way to make demands and requests transparent. They must be prioritized according to clear criteria (customer value and urgency) and then handed over to the best expert.
We want to minimize inflow through proactive information, good onboarding, self-help and peer-help, good standard equipment, and understandable communication. If we keep our funnel clean, we can focus on the high priority topics and optimize the outflow towards our customers, thereby maximizing customer value.
Onboarding
So far, there was no real IT onboarding for new employees. Superiors or assistants ordered software and hardware to be picked up by new employees on day 1, but that was about it. New company members had to ask colleagues regarding what to do and where to go to get additional software or help. Things appeared intransparent and confusing. We believe smart onboarding is a key lever to enable new employees to be productive much sooner – and of course also a smart way to make a good first impression for us! Also, we believe this is a key tool to minimize inflow into our organization and keep the funnel under control (see above).
We decided to go for a pragmatic, yet efficient solution for the start: Every new employee now automatically receives a personalized email once he or she picks up her corporate ID. The email includes a short overview of our access channels, the most relevant links and access to short video trainings. We will also be present at the group-wide onboarding day in the future to introduce our services and provide a tips and tricks overview.
We work on defining profiles for homogeneous customer groups (e.g. finance employees, creative teams, ...). We plan to provide them with the most needed software in their group as standard to avoid additional orders.
Organization
I said before that we decided to bundle all IT for the "regular employee" in one dedicated unit. To develop the organizational set up of our unit, we took a path which is not common for more grown organizations like ProSiebenSat.1: We involved everyone on the IT-side whose professional duties were to provide support for the "regular" employee thus far, plus everyone who was interested in participating. Our target: Fully re-invent the organization instead of optimizing current structures. Our guiding belief was that all our activities should be focused on realizing our purpose, i.e. increasing customer satisfaction. We quickly became convinced that all efforts on functions around IT for the "regular employee" should be bundled in one unit to ensure joint targets, quick alignment and focus.
Together we developed a hypothesis on which functions (i.e. key capabilities and tasks) would be needed and came up with seven clusters (please see graph below). We iterated this draft several times, also with people outside the organization, until we felt confident. Then we split up the group into seven sub-groups – one per function – to develop a future concept. Everyone was assigned to at least one group based on know-how and interest because all of us were convinced that those who will (likely) be part of the organization should be strongly involved for design. We believe that expert input increases the success potential, and also ensures the buy-in of the team. We made sure there was a good mix in every group of more experienced colleagues and young colleagues with fresh ideas. The groups received a set of key questions that needed to be answered, but worked independently with regular meetings to discuss our assumptions and ensure alignment on interfaces and dependencies – not only between the functions, but also between other units in the company.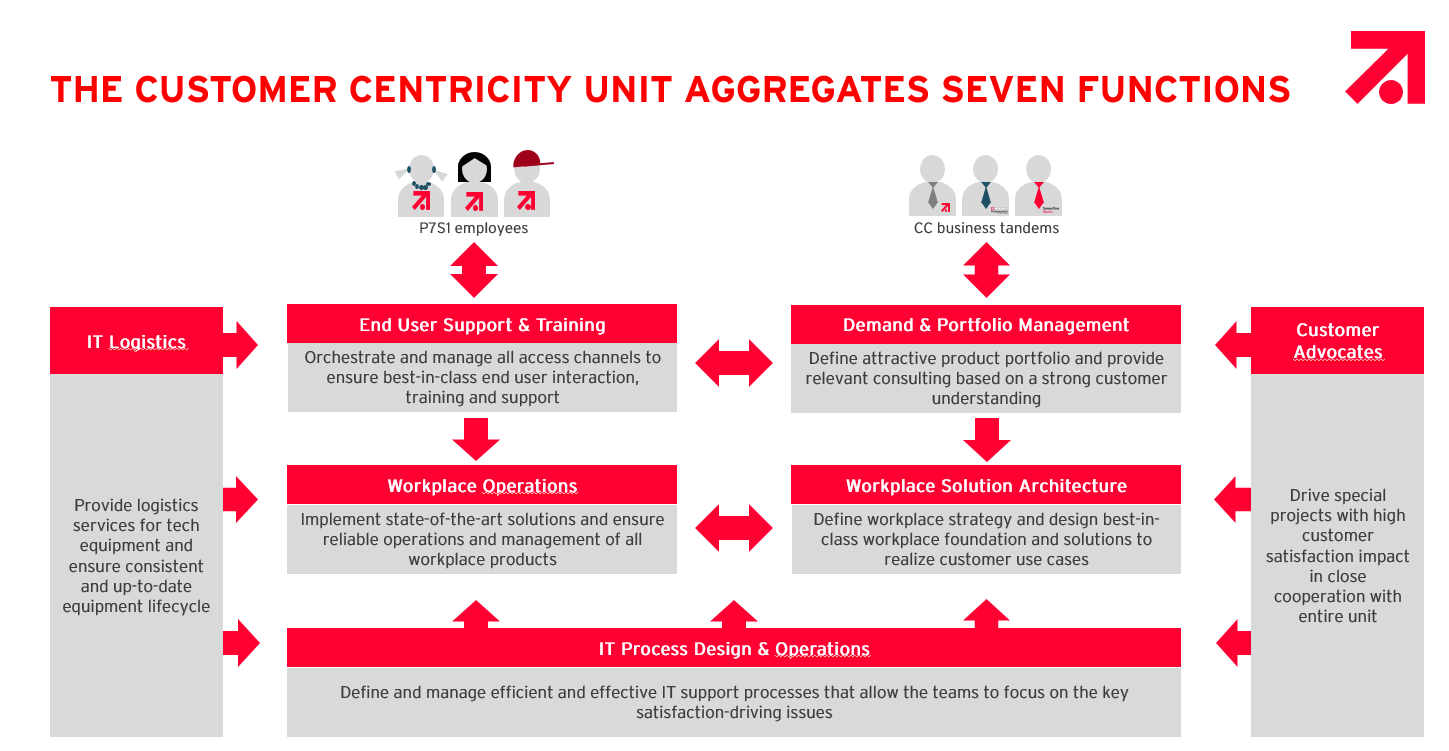 We then took the results and grouped the most related functions into teams. We made sure that we created an end-to-end responsibility for topics and defined owners for all key products and services. Regardless of team structures, we understand our unit as one – only jointly can we realize our purpose and increase customer satisfaction. We also know that a new structure does not automatically result in a changed mindset. A new, fully customer centric mindset can only be developed if we all move much closer to our customers, actively ask questions and consciously listen. We need to radically question our priorities and develop examples that serve as role models for our team.
I introduced our Demand & Portfolio Management before (see above), and there is a second function I would like to highlight in this article: The Customer Advocates. They initiate and drive special projects to improve our customers' experience. Usually those projects involve several functions within our unit, as well as other teams outside of Customer Centricity. The role is highly valuable, because it continuously questions the status quo and inspires our teams to think even more customer centric.
Measuring success
We want to validate our hypotheses and track whether our activities in Customer Centricity help to maximize productivity and customer satisfaction. That is why we have defined methods that help us generate meaningful, quantitative data on our current performance.
We've had long debates on how exactly to measure "maximized productivity". We have not yet found the ideal (measurable) KPI, but we are making do in the interim with operational KPIs from our ticket tool. Those include the number and type of issues, the share of problems that were solved on the 1st level and the average time to solution. These KPIs give us at least a first approximation of whether productivity is impaired. We are also working on additional measurements to see whether we can increase productivity (e.g. we would like to find out whether we can provide tools that help speed up processes or improve collaboration).
However, as we believe that our ability to maximize productivity at the workplace is directly related to our customers satisfaction with the IT, we believe that there is one most powerful tool: direct customer feedback. Apart from qualitative feedback, which we permanently collect from our customers formally and informally, we focus on quantitative, standardized feedback through a customer survey. We have developed a questionnaire that collects data on general satisfaction (incl. NPS), different aspects of our service desk, the quality of interaction, time to solution, our product portfolio, training availability, hardware and software quality and many other facets. We tested the questionnaire several times before we asked all ProSiebenSat.1 employees for feedback for the first time this summer through a prominent intranet placement. The responses we received were very valuable in understanding the current perception of our services. We learned a lot about what works well and what needs to be improved from our customers' perspective. We shared and discussed the findings extensively within our team, with several customer representatives (including colleagues from all units, the workers council, the ProSiebenSat.1 top management) and service providers. We then used the comprehensive insights to derive initiatives that will (hopefully) translate into a higher satisfaction.
We plan for regular biannual surveys based on our questionnaire to collect comparable data on our performance over time to find out whether we are successful in realizing our mission. We want to understand whether our initiatives pay off and derive new activities. We value every feedback and will continually adjust our methods as necessary in order to maximize productivity and customer satisfaction.
What's next?
We have clear hypotheses and beliefs, have launched and are launching several initiatives, and have defined a new organizational structure. However, this is only the beginning of a huge transformation. In the next months, we will be focusing on these three dedicated topics:
Further improve productivity and satisfaction on the customer side: Full implementation of IT Ambassador program; more proactive communication to our customers on new features; and enabling our customers to be more efficient through an increased adoption of Office 365 tools
Improve internal structures and drive operational efficiency: Make work more transparent to everyone within our team; implement clear prioritization mechanisms to manage our funnel and to ensure issues do not get unnecessarily complex, so that our experts can focus on architectural questions; define ownership for every service and product, define standard and robust processes for typical use cases (also to avoid "Hey Joe" scenarios); and design interfaces between functions within and outside of our unit.
Become one team: Further increase trust within the unit and grow as one team (regardless of disciplinary structures)
We are super passionate about our journey. And we realize there are a thousand things which could be done. To ensure focus on the high priority topics within our unit, we leverage OKRs. They help our teams to concentrate on what we jointly believe is most important.
That's the current direction of our journey. We are sure we will need to adjust our route again and again while we are on the way, because the circumstances will change and assumptions will be proven wrong. I will write here again in a few months to report our progress, let you know what we achieved, what worked and what did not work as well as what we learned.
Please get in touch
We would love to discuss our approach in Customer Centricity and to learn more about how other companies are structuring their IT for the "regular employee". So, if you are leading a comparable unit, please get in touch!
Do our ideas on Customer Centricity sound exciting to you? Would you like to become a member of our unit? Great! We are looking for two new colleagues: